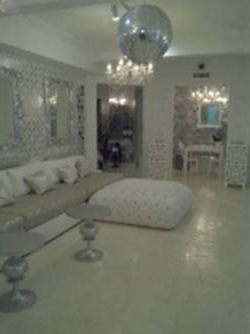 Sometimes I love some of the trends I find so much, I absolutely have to make them part of my every day!
My latest major change at New York home? Mirrored Brocade Wallpaper! I was perusing the boutiques at New York's Limelight Marketplace (which is wonderful—I had a great time shopping!—but also kind of weird…I used to dance there when it was a hot, hot nightclub!), and I spied this gorgeous wallpaper. I loved it so much, I also had it installed in my New York apartment immediately!
Home décor trend forecasting at it's very best !!!!