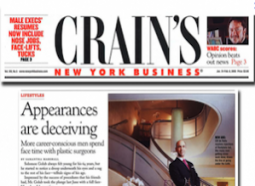 Oooh! I've got my name in another prestigious magazine!
I was recently quoted by Crain's New York in their "Fast 50" feature about 50 hot companies powered to win through strategic thinking. And Laura Geller is one of my favorite brands … I live for her Brow Magic Marker!
Crain's New York is a major mag that gives you the continuous coverage of local business news you need to stay informed and ahead of the competition … it's a very handy, smart publication that I highly recommend to anyone keeping their fingers on New York's pulse!
_
Mirror Mirror Imagination Group's beauty branding expert and trend futurist Jeanine Recckio is featured June's Crain's New York.