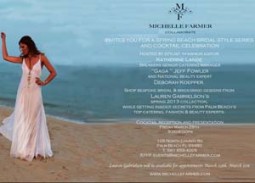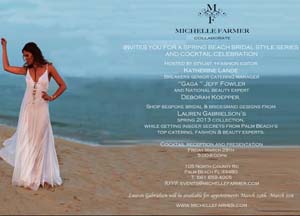 I'm super excited (an honored) to be guest speaking at the Michele Farmer Style Series in Palm Beach!
The event's focus is all about Beach Bridal beauty trends & the trend setters at the event include stylist and fashion editor Katherine Lande, the fabulous "Gaga" Jeff Fowler from the Breakers … and beauty expert extraordinaire Deborah Koepper … the yummies are from Christina's catering!
Of course, I can't wait to talk with Palm Beach's top catering, fashion, & beauty experts to chat about the future of the industry, cosmetics, marketing, branding, and all things design and lifestyle … it's going to be fantastic!
Michele Farmer's boutique is beyond chic and full of the most incredible global fashions. Can't wait to shop her boutique in Bridgehampton this summer, too!
–
Jeanine Recckio is the founder, marketing leader, futorlogist and lifestyle trend forecaster for New York's premier beauty branding agency—Mirror Mirror Inc.