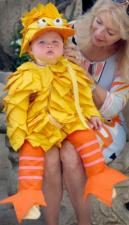 Boo! … Halloween is fast approaching … and I can't wait to celebrate at tomorrow's big Halloween Kiddie Parade on Worth Avenue … Mirror Mirror has donated fabulous auction gifts for this very special annual event … What can I say … I always liked treats better than the tricks!
More details about the parade:
Witches, wizards, ghosts and goblins are billed as the guests of honor Oct. 27, when Worth Avenue landlord Burt Handelsman will throw his annual Halloween Costume Contest.
In its 21st year, the free event turns the scenic Gucci Courtyard into a daylight den of fright and fun. Hundreds of participants dare to be scary, vying for prizes donated by Worth Avenue merchants.
Registration will be from 10:30 to 11 a.m. at the courtyard entrance. The contest will begin at 11:30 a.m., with judging in three categories: infants to age 2, ages 3 to 6 and ages 7 to 10.
Sherry Frankel, president of the Worth Avenue Association, event chairwoman, praised Handelsman for picking up the tab so many area children can play dress-up.
Where else can ghosts and goblins mix with their own kind, "in broad daylight and with the blessing of the Palm Beach Police Department?" quipped Frankel, who calls herself "Scary Sherry, Witchtress of Ceremonies."
Lily Capehart, known as "The Lizard Whisperer" for her appearances on television with David Letterman and Ellen DeGeneres, will make a special appearance, Frankel said.
Merchants who have donated prizes include Neiman Marcus, Chanel, Ta-boó, Wachovia Bank, Amici Ristorante, Mackenzie-Childs, Ralph Lauren, Gucci Palm Beach, Sherry Frankel's Melangerie, Eye of the Needle, Victor's Cafe, Bonpoint, Margaritaville, Vivi's, Grande Armee, Okra, Tourneau, Commerce Bank, Mirror Mirror, Sunset Pilates, Kassatly's, Marley's Palm Beach Collection, Erwin Pearl, Saks Fifth Avenue, Eclectica, St. John and Juicy Couture.
Prizes will be awarded in each age category for various criteria: funniest, scariest and most creative.
Judges this year will include Nancy Mizelle, of Commerce Bank; Gucci Courtyard resident Richard Halpern; Palm Beach Daily News Editor Pat Thomas; Tara Zigler, manager of Juicy Couture, and retailer Barbara Katz.
Handelsman conceived the event to make the Avenue more approachable.
With its reputation as a sophisticated shopping venue, the district's mystique can be intimidating, "but this shows we're just real people," Frankel said.
For more information, call Sherry Frankel's Melangerie at 655-1996.